We are open again from 12th of April!!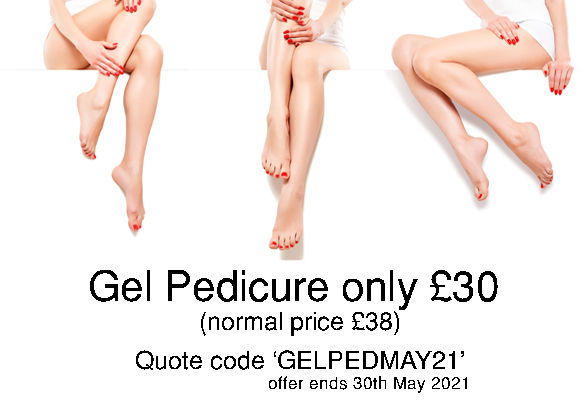 Includes:
toe nail and cuticle tidy
exfloliate and rough skin removal
foot massage
application of gel polish from a choice of over 80 colours and French
Environ Products
We are continuing offering a mail order service for clients wishing to purchase Environ Skincare products. Please email our customer service email and we will get back to you as soon as possible. Please note that the products are ordered by us from Environ & then delivered by Environ so the process may take a few days to get to you, Thank you .
Git Vouchers due to expire  during current enforced salon closures
We have extended the expiry date on all vouchers due to expire during the current salon closures (from January 2021) until the 30th of April 2021. You do not need to do anything or contact us this will be done automatically.
Thank you & we hope to see you soon
 FEW OF OUR MEASURES TO KEEP YOU SAFE…….
All customers will be required to wash & sanitise their hands before any treatments are performed
please attend your appointment on your own
We no longer accept cash payments – please use contactless where possible.
Extensive use of protective screens
Limited number of appointments – to maintain social distancing between work-stations
Personal Protective Equipment used by therapists for performing treatments
Customers will be required to wear face coverings.
Enhanced hygiene protocols & procedures for all our treatments & procedures.
Please arrive on time but no more than 5 minutes early for your appointment,
Once you have washed your hands you will be asked not to eat, drink or touch your personal items including your mobile phone.
THANK YOU FOR YOUR PATIENCE & SUPPORT – WE LOOK FORWARD TO SEEING YOU SOON – THE MINT & BEAUTY ROOMS TEAM
LVL lashes now available
Contact us for more information
For more information please see our contact page.