Join The Wrinkle Revolution With Caci Ultra
The Beauty Rooms is delighted to offer our clients the acclaimed Caci Ultra – endorsed by global superstars including Jennifer Lopez and Madonna.
The revolutionary treatment offers a 'Facelift without Surgery'.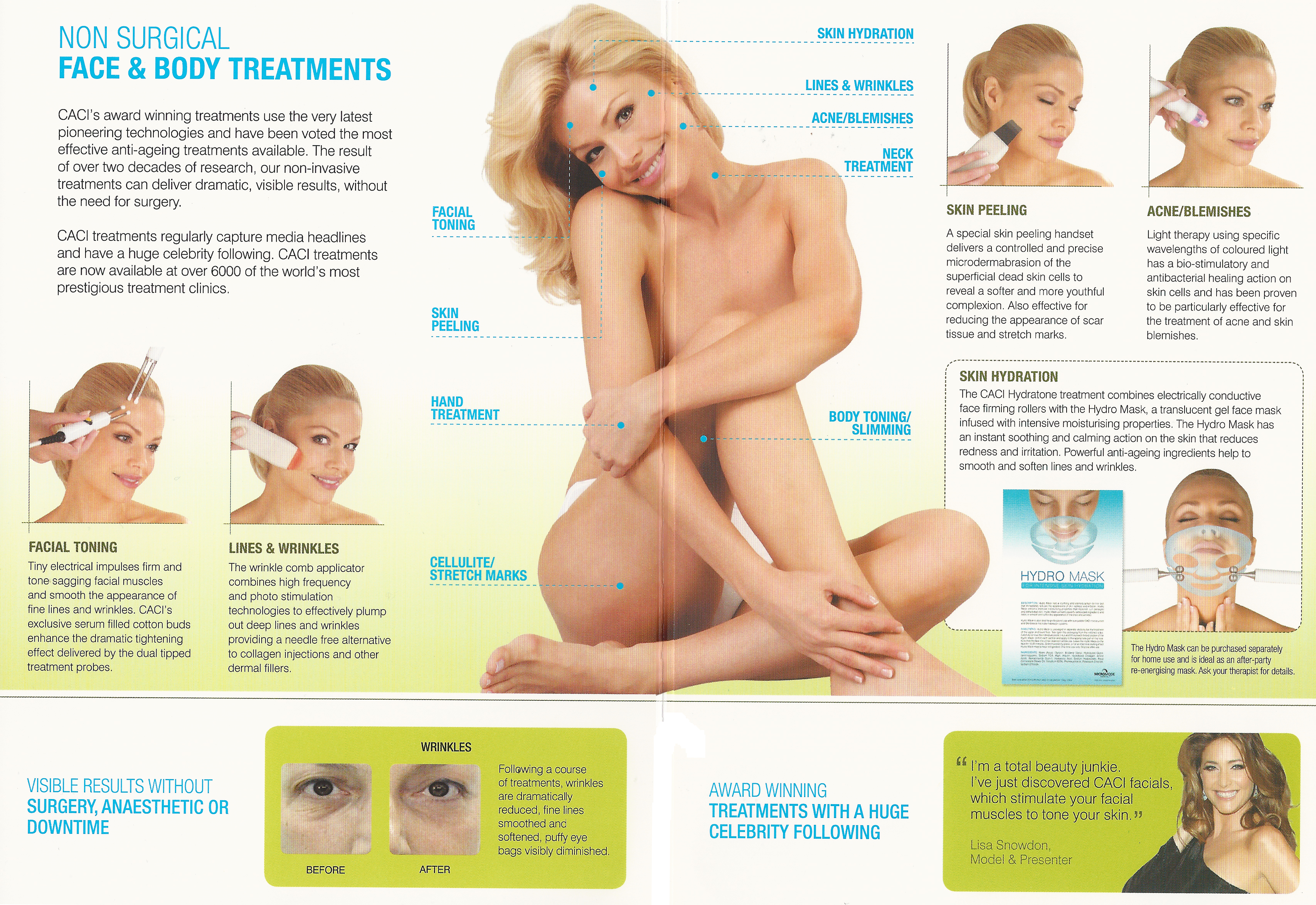 Read on to find out why celebrities the World over choose Caci.
For details of prices scroll down, click here or contact The Beauty Rooms today.
The long term effects of life`s stress, show in the face causing degeneration and sagging. Muscles lose their tone, cheeks and jowls start to sag, wrinkles spread and deepen. We begin to look older than our years.
CACI was designed to retard the signs of ageing, to keep the skin youthful and glowing, and to keep the facial muscles toned.The treatment will stimulate the circulation of energy to the facial tissues and muscles. This increases the rate that the skin produces proteins such as collagen and elastin. It therefore deals with both the skin and supporting muscle tissue beneath it, restoring form and vitality to facial muscles that have gone soft due to use and lack of circulation. It is designed to give gentle exercise to the facial muscles, tightening and firming them, to reduce slackness and restore natural contour.
The treatments improve lymphatic drainage to the face resulting in improvements in complexion and reduction of eye bags. It can be used to scar tissue and reduce the size of enlarged pores. The multifunctional CACI Ultra is the ultimate treatment system, combining the `lifting` function of the award winning CACI non surgical facial toning system with the skin regenerating applications of the world acclaimed Futur-Tec system.
CACI Ultra works in harmony with the body`s own bio-electrical field to re-educate, tone muscles and enhance skin tissue repair. A relaxing and pain free treatment using a patented microcurrent which "retrains the muscles of the face and neck to achieve tighter and firmer features". To achieve lasting results a course of 10 treatments is recommended followed by a monthly maintenance treatment.
CACI
We are delighted to offer you this revolutionary treatment.
Caci Lift  £55 per treatment
Muscle toning, lifting & hydrating – best as a course of treatment.
Caci Ultra  £79.50
As above plus ultrasonic exfoliation LED light therapy & Hydratone mask – the ultimate lifting treatment.
Caci Eye Lift £30
Using microcurrent and LED light therapy treatment to stimulate the muscle, improving blood-flow and reducing fine lines.
Caci Jowl Lift £30
Targeted to lift & tone the muscles of the lower face. Course of treatment available.